Norway-Paris Fish & Game Assn., Inc.
What's happening at our club.....
November Happenings
On Sunday, the third at 8:00 AM (rain date the 10th), will be our first Biathlon Day – Shooting Clinic & Running. After the 8:00 AM sign in at the clubhouse, there will be Orientation, Warm Up, Instructions, Running & Shooting etc. This professionally run event welcomes co-educational participants ages 12 to over 60. Come see why this is such a popular, growing sport.  For more information, or to register, contact Angelo Baroni (Mr. Biathlon), at biathlonskier@comcast.net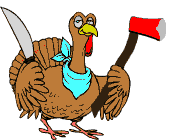 Well, perhaps you've guessed that our Wednesday November 20th meeting is our three turkey with all the trimmings annual dinner loved by all! Many of the harvest vegetables are grown by our green thumb members, and superb desserts overflow their special table. Don't tell Weight Watchers, PETA, or any other nasty judgemental group about the meal, just show up hungry at 6:30. 
Santa Claus is indeed early this year, and for a great cause. In the past, our members have been donating new toys and money for area kids who wouldn't have a Merry Christmas without caring folks like us. We realized that the tradition of bringing these gifts to the December meeting made it difficult to distribute them easily, so we are asking you to bring them to this meeting instead. So, please be as wonderful as you have always been, but just one month earlier! Thank you………